CAP FM-905Q Power Rack Review
| | |
| --- | --- |
| If you're looking for an economical power rack with a chin up bar for doing gymnastic/bodyweight strength training at home, you've probably come across the CAP FM-905Q Power Rack / Squat Rack on Amazon or elsewhere online.  This review will help you decide if it will meet your needs. | |
Assembly
I purchased the CAP FM-905Q Power Rack / Squat Rack with pull up bar distributed by and branded with the Fuel Pureformance label.   Although the rack I purchased has Fuel Pureformance branding, the Owner's Manual clearly indicates on the cover page that  CAP Barbell of Houston, Texas manufactured the rack and is responsible for customer service (in box on left hand side under "QUESTIONS?").  The FM-905Q model number is listed on the bottom right hand corner: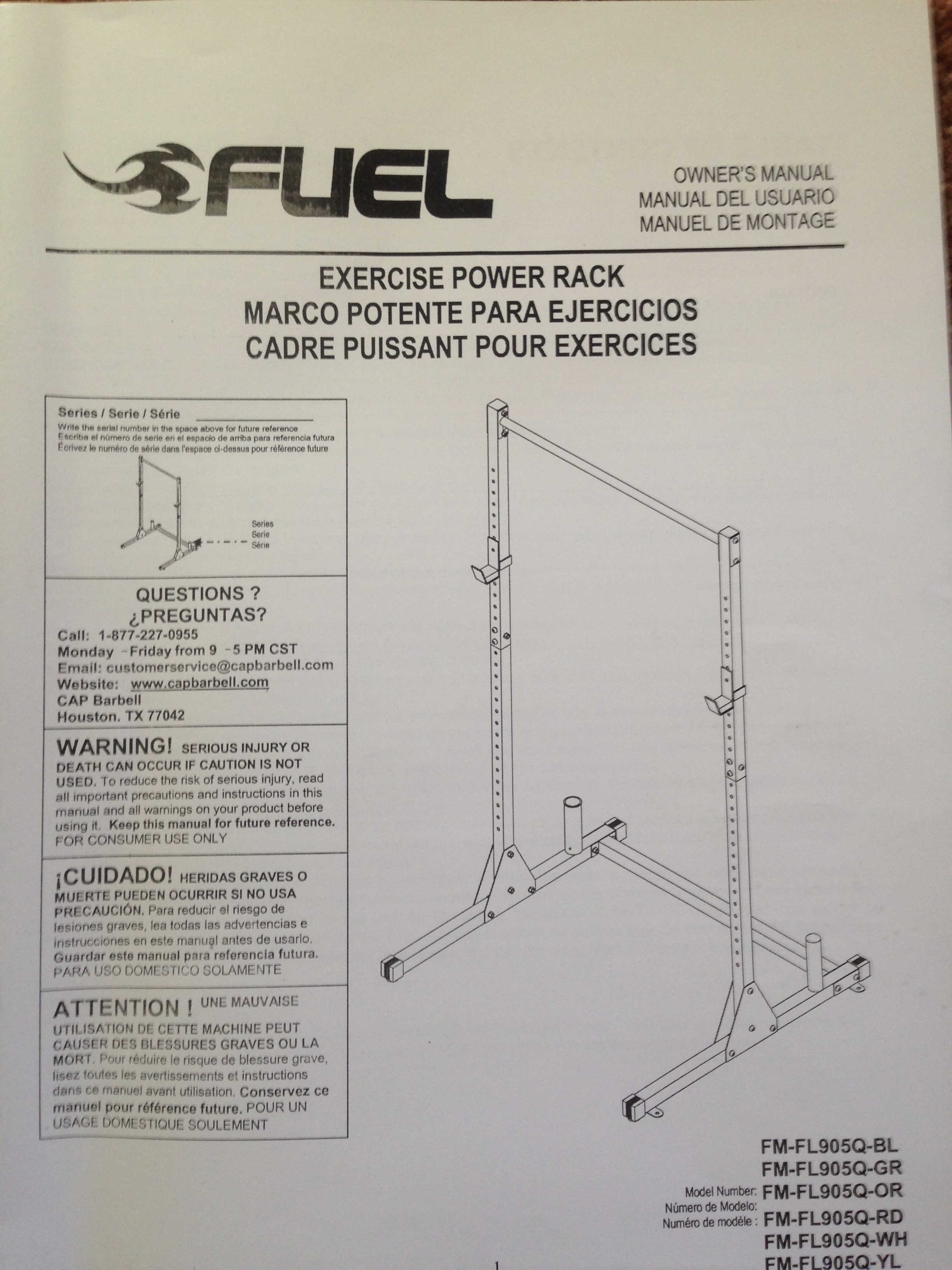 The CAP FM-905Q Power Rack / Squat Rack  was delivered to my home in the large box shown here:
The contents were well packed, all parts protected by plastic bag or plastic wrap:
I found very minor paint damage; unless everything is packed in form-fit styrofoam, making necessary a larger box and more expensive shipping costs, it is likely unavoidable that some parts will be scratched in transit as boxes jostle in transport trucks.  I don't mind a few minor dings.
Assembly of the CAP FM-905Q Power Rack with chin up bar was very easy.  You only need two tools: the Allen key provided with the rack, and an adjustable hex wrench not provided. 
I did a few things differently from the instruction book during assembly.
First, since I don't plan to use this rack with a barbell, I did not install the barbell storage (part #8), the Olympic plate storage (part #9), and the barbell hooks (part #6).
Second, the instructions would direct you to put the upper uprights (part #4) onto the lower uprights, then attach the chin up bar (part #5) to the upper uprights.  This requires you to reach up to the top of the uprights to bolt the chin up bar to the uprights.  If you did it this way you may need a ladder and definitely need two people.  I chose instead to properly bolt the upper uprights (part #4) to the chin up bar (part #5) while all this was laid flat on the ground, then I was able to lift  this upper assembly onto the lower uprights and bolt it in place. 

The whole assembly process took me about 1.5 hours.  Others may be able to do it in an hour but I was being very careful to avoid doing any damage to the unit, and also tested a couple of different locations, one indoors and one outdoors.
CAP FM-905Q Power Rack Review
Once I completed assembly, I was very impressed with the CAP FM-905Q Power Rack with chin up bar. I like these features:
The base beams have rubber end caps (part # 16) that have feet molded in that raise the beams above the ground about 0.25".  This keeps the metal beams from resting on whatever surface you are using.  In my case this means the beams will not rest directly on concrete when outdoors, protecting the beams from scratching damage by the concrete; and when indoors the unit's beams will not rest directly on the floor, protecting the floor from damage by the beams.
The chin up bar is at height (~85", which is about the height of the top of a standard inside door) that allows me to do hollow body chin ups with legs fully extended.   
The pull up bar unit is very sturdy and stable for any upper body pull up done without jerking or momentum even without being bolted down.  
If you want to use the rack for heavy barbell exercises the unit has 4 eyelets built in for bolting to the floor to increase stability.  Alternatively you can install the Olympic plate storage peg and load the unit down with barbell plates.  I would suggest contacting CAP Barbell to see if you can purchase a second Olympic plate storage peg (part #9) to replace the barbell storage cylinder (part #8).
With removal of just 8 bolts the CAP FM-905Q Power Rack can easily be moved from indoor to outdoor: remove the rear beam (4 bolts) and the chin up bar (4 bolts).  
I could fit the unit in the trunk of my car with removal of just 10-12 bolts: rear beam (4 bolts) and upper assembly (6 bolts for upper assembly removal, for some smaller trunks you might need to remove 2 more bolts to detach one upper upright from chin up bar).
The pull up bar unit only weighs about 62 pounds so I can easily pick it up and move it around my yard outdoors (or room indoors) while it is fully assembled.
The chin up bar unit has a maximum weight capacity of 500 pounds.
| | |
| --- | --- |
| Great value at about $115-120.  (During the corona virus shutdown prices increased to more like $200 due to sell out of stock and shortages.)  I like this addition to my home gym and highly recommend this unit to anyone who wants an economical pull up bar for home use.  The unit comes in carbon, blue, green, orange, red, white, or yellow paint.  Click on the image to the right to purchase your CAP FM-905Q Power Rack Chin Up Bar from Amazon. | |
Jul 06, 20 11:43 AM

Gaining strength and X3 bar training vlogs

Jul 02, 20 12:03 PM

Coaching services I offer to help you improve your health, strength, flexibility and life meaning and satisfaction.

Jul 01, 20 12:25 PM

Only if you forgive the sins of others, will you be forgiven for your sins.